Installing custom ROMS, downgrading, upgrading, rooting, tweaks, installing kernels – the modifications and tweaks you can do for an Android phone far outnumber that from any other platform or rival. However sometimes these procedures can be technical and, sometimes also, things may not turn out for the best – so how can you get your Android phone up and running again?
Firstly you must always make sure you have backed up your Android phone first before you attempt to change anything significantly on your Android phone, we show you how to do that using your PC here.
Disclaimer: FlexiSPY is not responsible for any loss of data or damages incurred from following the directions given. Please make sure you have correctly performed all the device requirements for backing up the phone and have correctly backed up the phone before proceeding as well as correctly restoring the appropriate backup for the correct Android phone being used – restoring the phone is done entirely at your own risk.
What is needed to restore the Android phone?
Restoring the Android phone requires that you have done the following:
Rooted the Android phone
Backed up the Android phone to your PC using EFS Professional
For the sake of this article we are going to assume that you have already rooted the Android phone, backed it up to your PC and stored that backup file in a safe place so now it is time to restore it.
For restoring the phone, as we discussed in our article on how to backup the phone to your PC, we are going to use the same software – EFS Professional.
We are also going to assume that you have already downloaded EFS Professional and you have already made a backup that we can restore from (we discussed this already and how to do it – see the link at the beginning of the article).
How to restore from backup using EFS Professional
First of all, as stated, make sure you have already made a backup of your Android phone using EFS Professional – we will assume you have.
Firstly, connect your Android phone to your PC.
Once connected run EFS Professional.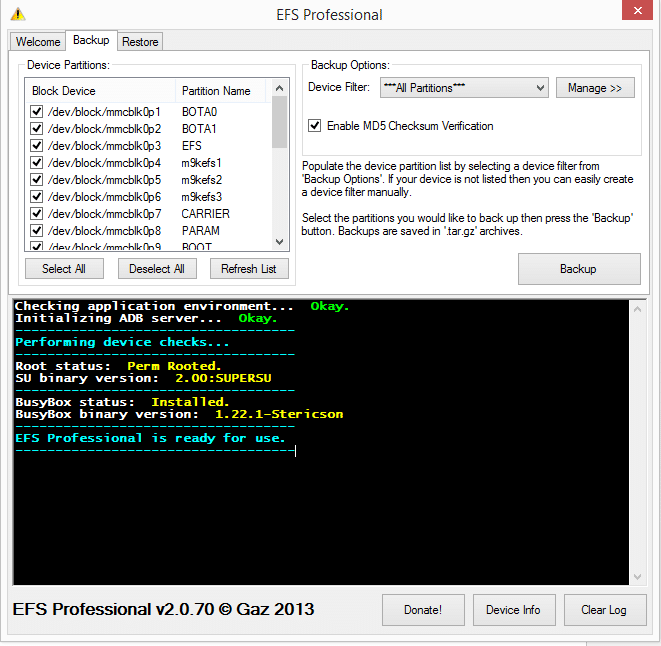 Click the Restore tab.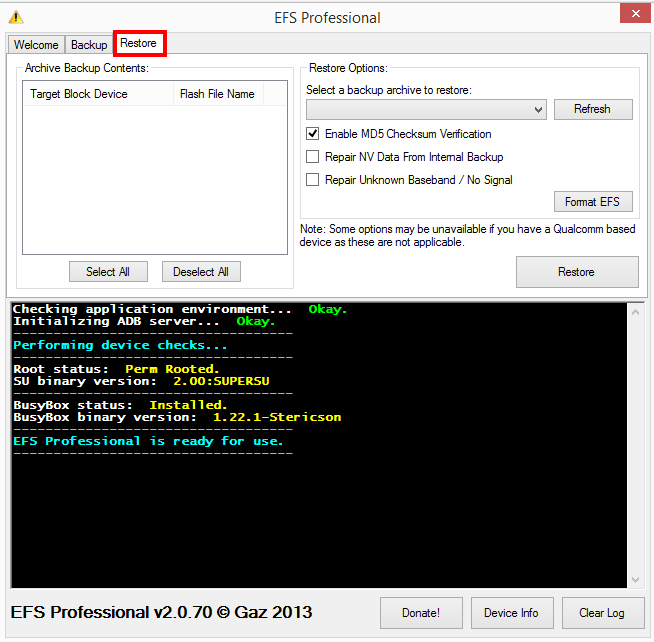 Click the drop-down menu to show a list of backups already saved. For those who are wondering the backup files are stored inside a folder called EFSProBackup inside the main folder you are running EFS Professional from.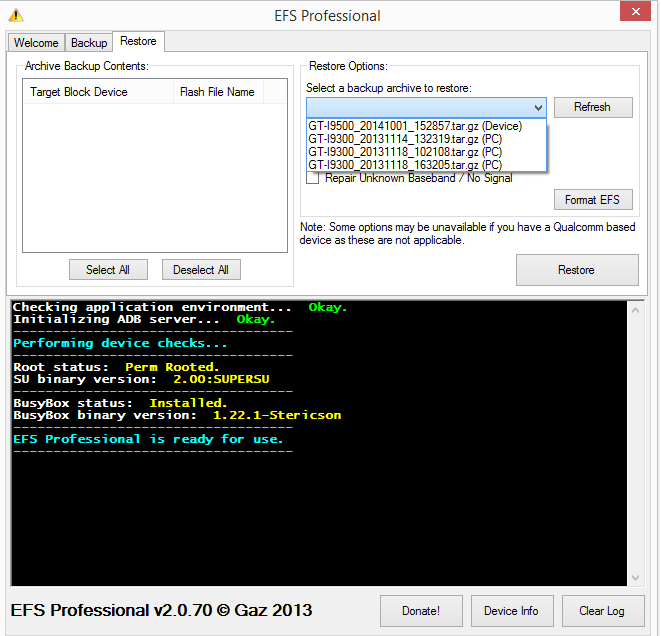 From the drop-down menu choose the backup that you wish to restore.
NOTE: ALWAYS MAKE SURE YOU ARE RESTORING A BACKUP THAT MATCHES THE PHONE MODEL YOU ARE RESTORING TO. FOR EXAMPLE, IF YOU BACKUP A SAMSUNG GALAXY SIII AND TRY TO RESTORE A BACKUP FROM A SAMUNG GALAXY S4 IT MAY CAUSE ISSUES – ALWAYS CHECK THE MODEL NUMBERS MATCH ON THE BACKUP AND PHONE BEING RESTORED.
Once you have picked the correct backup simply click the Restore button to start the restore process – please be patient, this may take some time.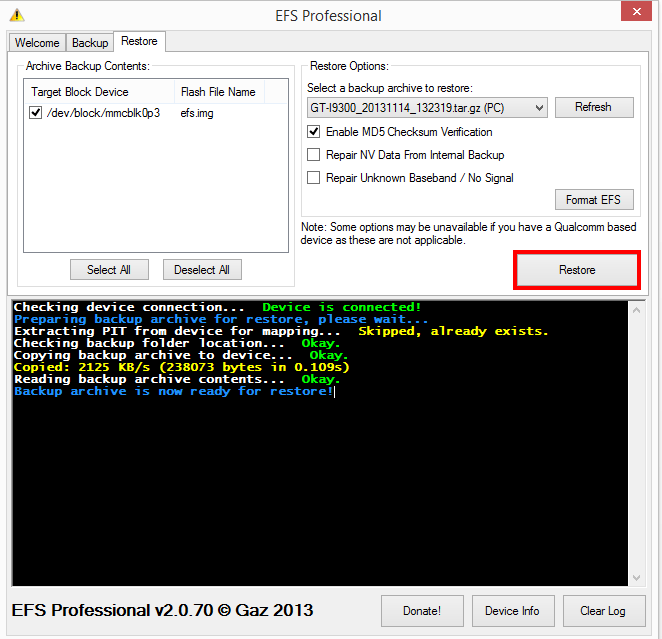 Once the process has completed simply disconnect the phone from the PC and it should be restored to its previous state.