At Flexispy, we are always trying to get consumers the best value for their money. As part of achieving that goal, we actually buy and test all Spyphone software on the market. That way, we can tell customers what they can expect when they purchase any brand of Spyphone software.
One thing we abhor is companies that sell Spyphone apps that plain just don't work. This makes the entire industry look bad. We want customers to come to us because our products are the best on the market. When customers spend their hard-earned money on something that doesn't work, that often means they give up, reasoning all Spyphone software is a scam.
With that in mind, we would like to share our experience with one particular brand.
We purchased the software, Cell Spy Stealth, on February 6, 2014 from the website, www.iphone-spy-app.com. The cost was $27.00. When we clicked the button to make the purchase, we were redirected to http://www.cellspymonitoringsoftware.com.
We were intrigued by their website, because they advertise that you can install the software on a target phone, without having physical access to that phone and then intercept any call made or received on the target phone.
After purchasing the software, we downloaded it as instructed, we tried installing it on the android platform, the iOS platform and the Blackberry platform. The installation was unsuccessful on all three.  Our company has technicians with years of experience installing Spyphone software onto phones. And, even they couldn't get this app to work.
As instructed by their website, we submitted a ticket to their support team. We asked for a refund, because the software wouldn't install. On their website, they guarantee customer satisfaction with the product and promise a full refund if dissatisfied with the product within 30 days of the purchase, no questions asked.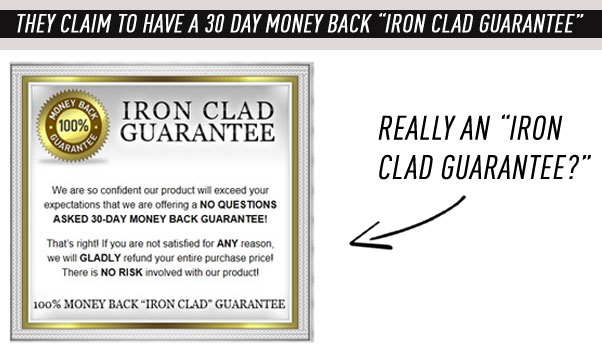 After submitting our ticket for a refund, we received this email from [email protected]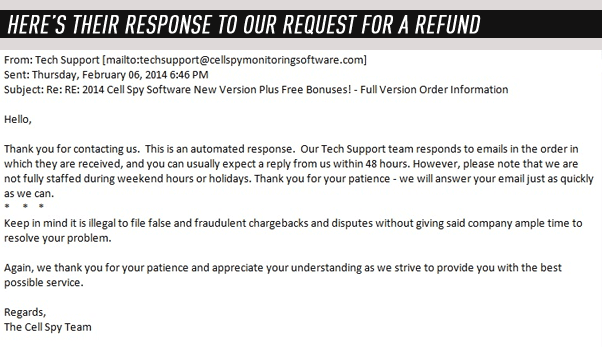 We never heard from them again. Yep, $27 down the drain. What a rip-off! But, you don't have to kiss your money goodbye. At Flexispy, we're going to help you get your money back.
How to raise a dispute, and do a chargeback on your credit card
When you purchase any software, take the time to read the legal disclaimer and the terms and conditions of the purchase. It will save you a lot of headaches and disappointment down the road. Here's the relevant legal disclaimer for our purchase:
Software Download Return Policy:  All sales final. In-store credit only.
If there is a problem with the download, please contact us via email for a quick resolution.
Ummmm . . . what happened to my iron-clad 100% money back guarantee?
Never fear. With a credit card purchase, you can always get your money back. It may take a little time, but don't let the scammers win.
But didn't the company's email say that it is illegal to file false and fraudulent chargebacks and disputes with my credit card company?
LOL, the scammers who sold you worthless software and took your hard-earned money are threatening you with legal action if you file a chargeback?
It is your right as a credit card customer to file a chargeback or dispute, if the product you purchased does not conform to your reasonable expectations as a consumer based on the marketing information provided by the seller.
So, here's what we did to get our money back.
We first contacted our credit card company and informed them that we want to file a chargeback for this purchase. We told them the date and amount of charge. They emailed us a form to complete, which identifies the seller, the charge and the reason for the chargeback. We emailed it back with a copy of our emails with the seller. Our credit card company investigates, tries to get a response from the seller, and then reverses the charge. Simple as that.
But we didn't stop there.
How to file a complaint with the payment gateway provider
When you purchase something on a website, usually your purchase goes into a shopping cart, and when you checkout to pay, you are taken to a different website, called the Payment Gateway.  The payment gateway is the lifeblood of the ecommerce seller, because it processes all its credit card transactions.
Payment gateways carefully watch the number of chargebacks and refunds for credit card transactions that they process, as there can be a risk if the amounts are particularly large. They may close their payment gateway service to the seller, or charge higher transaction fees, if they detect a pattern suggesting potential consumer fraud. Payment gateway providers are particularly interested in refund policies and whether the seller is living up to the refund policy as it is presented to the customer on the seller's website.
CellSpyMonitoringSoftware uses Plimus as its payment gateway provider.  Plimus is a very reputable company, and handles a lot of ecommerce software credit card transactions.  Plimus has its own support system for handling complaints that cannot be resolved with the seller.
We submitted our ticket to Plimus' service center so that we could escalate our request for refund. We do not expect Plimus will be able to get our refund, as that usually has to be obtained through a credit card chargeback. However, we are certain that our email has created a red flag about this seller and that Plimus may take some action as a result of this.
So, don't accept that the Spyphone software you purchased is just a scam and that you threw away your money. Get your money back through a credit card chargeback and take the seller to task.
Or, why don't you try Spyphone software that works? Flexispy will discount your purchase of our product in exchange for turning over your current Spyphone license key to us. Get the results you want, and trade in that worthless app. Go with the first and proven leader in Spyphone technology.