Looking for the Best Remote PC Monitoring Software to help manage your business? Haven't thought about it? You may want to start, as remote work is here now and for the foreseeable future.
Employers are investing heavily in tech products and processes aimed at making work-from-home an attractive option for both businesses and employees.
So, how do businesses keep track of their staff's productivity during the pandemic? To tackle this, companies have turned to computer monitoring to keep track of KPIs and secure IP.
The best Remote PC Monitoring Software lets you track employee activity, emails, and logs suspicious behavior with keyword and file activity alerts. It will even provide a way to track the latest device location.
Before we proceed, here's a short article on the 5 features to look for in a computer monitoring software.
In this article however, we dive deeper into what makes Remote PC Monitoring one of the fastest growing SaaS industries in the world.
We'll explore use cases, legality, and the importance of email monitoring plus other a features you should be considering for your business.
The Best Remote PC Monitoring Software
With so many computer monitoring products on the market, it is vital you do your research before settling on any software. Let's take a look at what features you should be looking for top-of-the-line monitoring.
The best Remote PC Monitoring software logs keystrokes, websites visited, chat conversations, app activity, emails sent and received, file activity, tacks USB and provides a host of other useful features.
With FlexiSPY for Computers, businesses have the option to track employees discreetly, as the software can be hidden on any PC or Mac. However, we always recommend open monitoring – where any surveillance is in the employment contract, as part of company policy.
One of the best aspects of FlexiSPY is the ability to view all computer activity from a remote location without being there. Not only does the software provide all the basic data a manager needs – including log-on/off times, desktop screenshots, and desktop alerts – FlexiSPY can also track the physical location of a laptop by logging the WIFI networks it connects to.
Notably, FlexiSPY is the most comprehensive Desktop IM Tracker on the market. The screenshots feature means, that you'll never miss any important information – and will be able to get information immediately, on-demand as required.
These advantages make FlexiSPY for Computers one of the most popular Remote PC Monitoring software not only for businesses – but parents, security and investigative professionals, network administrators, and more.
Remote PC Monitoring Features for Business
Here are the features you need:
Email Monitoring
File Transfers
File Activity
Wi-fi Networks (location data)
Measure Bandwidth Activity
Desktop Screenshots
Desktop IMs
Track USB and User logins
24/7 Customer Support
Remote PC Monitoring for Business – 3 Benefits
Remote PC Monitoring Software is a great tool for businesses to better oversee and keep track of their team's performance.
Here are 3 of the top reasons why you should consider remote PC Monitoring Software:
Improved Efficiency
Remote PC monitoring tracks and logs all data to a user-friendly dashboard/portal. This allows businesses to easily and swiftly pinpoint inefficiencies – and worse, risky behavior.
Employers are able to identify inefficiencies with a scientific method. Enabling them to pinpoint and improve employees or processes that are not optimal or lacking.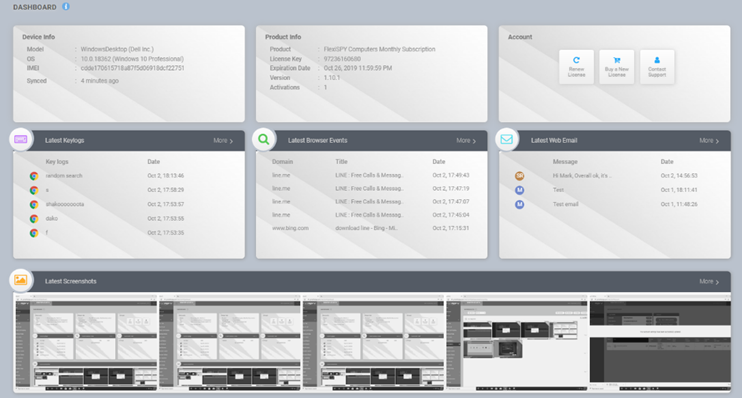 Proactive Problem-Solving
With FlexiSPY, managers can prevent potential problems before they occur. It also gives business a way to log data for evidence to be used as necessary. For example, in performance reviews or to protect sensitive information
Advanced Remote monitoring software such as FlexiSPY also offers keyword alerts. When triggered, the system sends an alert to the administrator's email or phone number.
As seen below, businesses can set-up alerts based on keywords or file activity.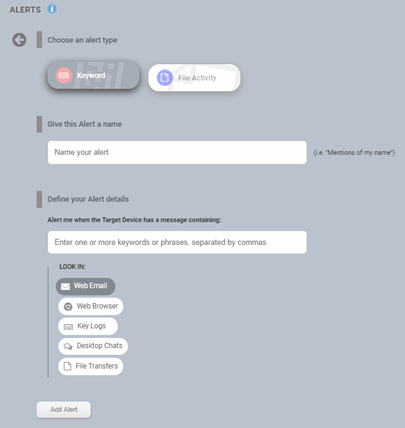 Valuable Insights
Remote PC Monitoring tools provide valuable insights into behaviour and work output trends. This informs managers whether or not employees are operating efficiently, and as an added insight – whether they are using company-owned devices appropriately.
The screenshots on-demand feature means business will always know what their employees are working on at the drop of a hat.
Equipped with these tools, businesses have access to data and make informed decisions.
Employee Monitoring Software – Legality
For the most part, if your employees are issued company-owned devices for work, then it is to be expected that they are monitored as company property.
In most countries, employee monitoring in the workplace is legal. However, whether or not you can remotely monitor a company device of an employee while they work at home will depend on each country's laws. You can learn more about the employee monitoring laws in your country here.
Email Monitoring: Is it Necessary?
One aspect of employee monitoring that companies have a prerogative over are work emails. Undoubtedly, these are expected to be used only for company-related work.
Email monitoring adds a vital layer of protection to deter and prevent malicious activities of employees. This includes data loss prevention features to deal with external attacks through phishing, spam, and more.
Above all, the importance of reliable email monitoring software cannot be underestimated. By monitoring incoming and outgoing emails, suspicious messages will trigger an alert – allowing employers to inspect and contain any potential threat in time.
FlexiSPY: Best Remote PC Monitoring Software for Businesses
Although there a few computer monitoring systems available, most of these are targeted at large companies and are complicated to use. FlexiSPY for Computers is intuitive and provides more monitoring features than any other monitoring software on the market. And because it is priced monthly, it's very easy to get started.
FlexiSPY's superior compatibility and depth of features makes it ideal for companies that have tablets as well as desktop computers who wish to monitor all devices from one portal.