What is Localize?
mSpy has introduced Localize, a partner software that claims to track GPS location worldwide simply by entering the number you want to locate.
This sounds great from a marketing perspective, but does it really work? And if it does, is it reliable? In this review, we look at how Localize works, explore limitations and determine whether it is worth your time or money.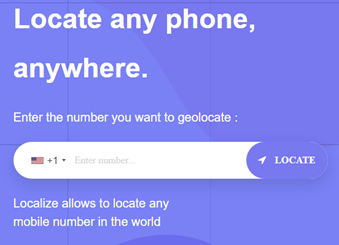 How do you get Localize?
Currently, the only way to get Localize through mSpy is to subscribe to their mailing list.
We received an invite to try Localize via a mSpy email — it is not advertised anywhere on the mSpy website, perhaps for good reason as we found out during testing that revealed several limitations.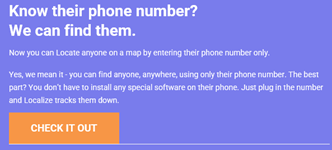 Pricing
mSpy's Localize offers a 3-day trial for $1.19 – after which you will be charged $36.6 per month.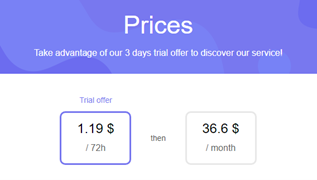 If you are unsatisfied with the paid trial, make sure you cancel your subscription within 72 hours to avoid getting charged the monthly fee.

How Localize Works?
To get the target device location, you are required to send an SMS to the target device using the Localize dashboard – the SMS then needs to be opened, and the location tracking request accepted.
Localize gives users the option to send a custom message, or choose from a predetermined list as seen here.
The device owner then gets an SMS sent to their phone with the message selected. The device owner is then prompted to accept the tracking request.
If the person was away from the device, not paying attention, or was not told beforehand to expect such an SMS, the request will most likely be ignored completely.
As you can see in screenshots taken from Localize's FAQ and during product testing – the device owner's consent is vital to the product working at all. Otherwise, you'll be paying Localize a hefty premium to simply send text messages, even if they were unlimited.
This limitation also means that if you misplace your own phone and want to use Localize to track its' location, you wouldn't be able to. The only scenario where you could retrieve your device is if a stranger finds it, sees the SMS, and accepts the tracking request.
Why use Localize?
So despite the limitations, is mSpy's Localize useful and reliable enough to be worth $36 a month?
Consider this.
If you are looking to track a device and already have the owner or child's consent to do so, why would you not simply call the person and ask, or use a reliable personal tracker?
If you are looking to track your own device if it goes missing – what would be the difference between sending an SMS request to track location and calling or texting the phone asking for it to be returned? In these types of scenarios, Localize offers little to no value.
So while mSpy's Localize may appear useful for Parental Control or tracking a lost phone, the requirement that the device holder must physically accept a location track is a real dealbreaker for our test team.
The next section summarizes some of Localize's most obvious drawbacks.
Limitations of the Software
You will not be able to track device location with Localize if the:
device owner is busy and does not see the SMS with the tracking request
device owner sees the SMS but does not open it due to an unknown source
device owner ignores or rejects the request despite knowing who is contacting them
target device is turned off or runs out of power
target's GPS location setting is turned off
user does not have internet to connect to Localize Dashboard
Track Location in Real-time with FlexiSPY
At $34 a month, mSpy's Localize is overpriced for a product that offers one feature not guaranteed to work – especially when the target device owner does not expect or consent to having their whereabouts tracked.
On the other hand – FlexiSPY's intro package, LITE, is available for just $29.95/mo. This plan includes discreet GPS tracking, Keylogging, SMS capturing, Photo and Video capturing. It can also be upgraded to include Advanced Features such as Call Recording and Ambient Recording at any time.
Yes, FlexiSPY does require you to install the software physically, however you will get numerous useful features including real-time GPS tracking with Geo-Fencing Alerts.
And if the device's GPS data is turned off, you can use FlexiSPY's WIFI Spy App to track their location by seeing what WIFI the device is or was last connected to. You can then enter the WIFI location into Google Maps and know exactly where they are.
Why FlexiSPY?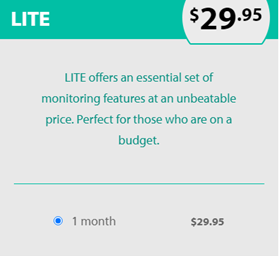 FAQs about mSpy's Localize
Is Localize an mSpy product?
We emailed Localize support directly to try and figure out why Localize was not being advertised on mSpy's website or any of their ads, but only available through direct email invite.
Ultimately, it would appear mSpy's Localize is not yet a ready product and is still in Beta as indicated by their customer service below.

Given that the product costs $36.6 a month for one feature that may or may not work – the location cannot be obtained if the device owner does not accept the tracking request– you may want to hold off on comitting to mSpy's affiliated product until it is ready to, 'meet requirements' as they put it.
Is my credit card information safe with mSpy's Localize?
As seen in this screenshot from the FAQ section on the Localize website, the company does have a data protection policy in place to protect your information. However, since they are sharing customer data with mSpy – who have an appalling track record when it comes to safeguarding their customer's information, having suffered major data breaches in 2015, then again in 2018 – you may want to learn more about mSpy's history of data leaks here.

Can I use mSpy's Localize to track a lost device?
You can use mSpy's Localize to track a lost device if you are a telepathic astral rocker that can pinpoint the nearest stranger to your lost phone, then send subliminal messages communicating with them to pick up the phone and accept the tracking request.
Can I use mSpy's Localize to track my kids?
You can use mSpy's Localize to track your kids only if they are informed of and consent to the tracking conditions for Localize to work.
Localize to work as advertised if:
Your child consents to tracking
Your child has the device on them at all times
Your child pays attention to the incoming SMS tracking request
The target device has battery and is turned on
The target device has a signal to receive the SMS tracking request
If Localize does not work as advertised, can I rely on mSpy's Customer service to help me?
mSpy offers live chat and email support for customers, and so it is safe to assume they would also provide support to clients of their partner software.
However, when we enquired about Localize, what it is and how it works – mSpy's Live Chat provided an answer that did not build any confidence in the product, leading to more questions than answers – especially raising doubts whether reliable support that can be expected post-purchase.
If mSpy's customer service is unable to solve your problem, then you can choose to contact Localize. However, please be aware that they have a 31-day reply policy so timely support is not to be expected.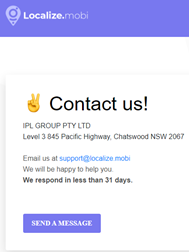 The Verdict?
If you're not looking to waste your time or money we recommend unsubscribing.