Recently we came across a website blasting Highster Mobile as a scam. Not your typical spy phone review site though, this one provides several insights on how it came to its decision for labeling highster as a shady software.
In this article we are going to address those points with our own findings from our sister site, spyphonereview to see if calling Highster a scam is appropriate or not.
Examining the Claims of the article
Claim #1 – Highster Mobile does not work and has bad support:
Our sister site, spyphonereview had already done an in-depth investigation on highster mobile's features and whether or not they worked. The key findings were that the following Highster features didn't work:
Call Recording
Listen to surroundings
WeChat capture
LINE capture
BBM capture
Instagram capture
Facebook capture
Whatsapp capture
Twitter capture
Email capture
Looking at the list on non-working features shown above, it was no suprise to us that users of Highster would be experiencing problems with the software. One comment from a reader of spyphonereview is a great representation for the majority of Highster uses. Here's the comment:
"I fell for the Highster scam. I thought I had found some legit reviews of it and therefore decided to give it a try.
It really doesn't work as advertised at all. It does record SMS, sometimes. The GPS didn't work AT ALL. When I emailed their "Tech support" they said I needed to install the latest version, which came as the same install package as the original (I reinstalled, just giving them the benefit of doubt, and wasn't surprised to see it's the same thing). All of the commands are SMS based, which is horrible. They do work, except for the GPS command, but the user gets to then see the messages and they can be sent from ANY device. Hell, you could probably send the messages to yourself. I've installed this product on a LG L90 D415 which is rooted. Another fun thing to note is that the facebook messenger was being logged, but every single conversation and every comment therein was marked as December 31, 1960. There were no markings of who made which comment in each conversation thread, and the conversation was all out of order as well. The other red flag for this product for me was that the last "news" on it was in October 2013. I wish I'd of seen that before handing over my CC #. I also found the uninstall instructions, and all of the other "knowledge base" instructions to be insulting. They literally told you how to just basically operate your phone. If you follow their uninstall procedure, you'd NEVER be able to uninstall the product. Thankfully, I have a decent amount of knowledge about the android ecosystem and was able to get it uninstalled properly."
And this isn't the only negative review of Highster out there. We were able to find endless reviews of Highster on sites that no business wants to be listed on.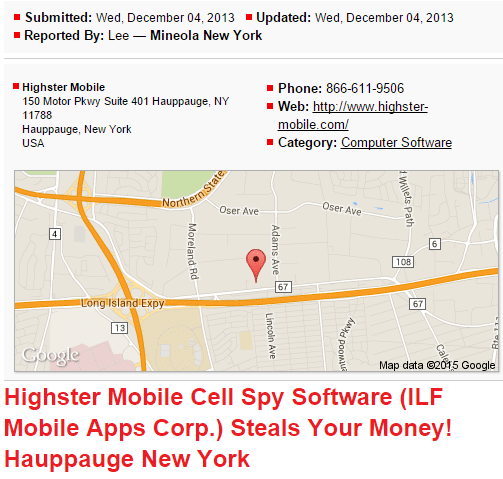 Besides the blog comments of apparent Highster customers, we scouted for different ways to verify the claims, and we found the proof when we looked at the data of our trade-in program.
In our trade-in program, we offer aggrieved customers of various spy phone products the chance to trade in the time remaining on their copy for a copy of FlexiSPY. When we trawled through the data we found that a disproportionate amount of trade in participants were, guess who, Highster Mobile.
Highster Mobile's Support:
While we don't have direct experience with their support (not for lack of trying,) on many of the scam report pages a common complaint is not only Highster's Poor support, but also their shady refund policy. Grabbed from the site, one of the claims against highster states this about their support:
"They have such a shafty refund policy – in which their is no refund policy. Even if you have not used tnot issue yo a refund whatsoever. This is the worst refund policy I have ever seen. I also noticed after requesting a refund, that they changed their terms and agreement just to try and trick me into thinking i didn't read their fund policy correctly."
As pointed out in the article, one the biggest clues in gauging whether or not these are false claims against  Highster is the circumstance that Highster are in right now with payment processor Avangate. Payment processors like Avangate has a low tolerance for software where many refunds and chargebacks are requested, so with Highster being excommunicated from Avangate just a few days ago, it makes you wonder.
Claim #2 – Highster Mobile and Easy Spy are the same product but they have been banned by Avangate marketplace.
This goes with what we were saying in the section about Highster Mobile's support but also reveals that Highster has many clone companies on the marketplace, all of which have now been banned by Avangate. Rebranding a product under a new name is a common practice for shady software dealers, this is just further evidence of Highster being a company that you wouldn't want to deal with.
Claim #3 – Highster Mobile is a one-time payment spy product.
FlexiSPY was the first spy phone software to hit the market, in-fact we invented the spy phone. So we've seen many copy cats come and go throughout the years. One factor seems to be omnipresent in all of the failed copy cats, and that is the promise of a one-time payment. We ask this question, would a bad software company offer monthly plans? No way.. Within the first couple of days of using software that turns out to be useless, you'd either request a refund (good luck getting one from highster) or you'd simply cancel further payments. What Highster and these one time payment companies do are hook you with this promise meanwhile getting the most possible money that they can from you, it's a calculated maneuver that seems to have caught up with Highster.
Conclusion
From the complaints circulating over the web, and as well as our own tests of Highster, the signs are there to stay away. If you were unfortunate enough to have already purchased Highster Mobile and are unable to get a refund from them then we'd like to extend the offer of our trade-in program to you. Just visit our trade in page application to get started.