How to root an Android device

:

you need to perform these tasks first
Additional Tasks:

these tasks can increase the success of rooting an Android device
No doubt, if you are a regular reader of the FlexiSPY Blog you will see that we have a new section called 'Android Rooting'. The purpose of this section is to provide helpful and up-to-date rooting guides for the most popular Android phones.
But many people are not entirely sure what rooting actually is. Furthermore they also think that rooting is a requirement to run FlexiSPY. This is not true. You can install FlexiSPY onto any Android device running Android OS 2.3 up to 4.4.2, and if it is not rooted then FlexiSPY can still be installed and it will run just fine – except you will not get access to specific root only features.
Basically, rooting an Android phone has many additional benefits besides being able to use the root only features of FlexiSPY.
What are the main reasons to root an Android device, besides FlexiSPY?
Free tethering – Tethering is where you can use the internet connection on your phone to access the internet on your PC or other device. Right now, for example on Boost Mobile, this costs $5 a month. On a rooted device, using Android Wi-Fi Tether it costs you nothing.
Increase battery life and speed – On a rooted device programs such as SetCPU allow you to overclock your phone (make it faster) for better performance or underclock it (make it slower) for better battery life.
Remove 'bloatware' – On any Android phone, especially ones tied to a carrier, there are always extra programs installed that you may not want to have (for example 'Galaxy Gift' on Samsung devices). Usually these cannot be removed but on a rooted phone, using Titanium Backup, running in root mode, they can be which makes your device not only run faster but also gives you additional storage space.

Remove adverts from applications – On the Google Play Store many applications are free and the reason behind this is because they serve you adverts. On a non-rooted phone you must either suffer the adverts or pay money to remove them. On a rooted phone there are programs (AdFree for example) that will remove the adverts for you for free.
Extensive customization – Unlike other device manufacturers (e.g. Apple, Windows Phone, and BlackBerry) who lock down the operating system meaning you cannot really customize, it a rooted Android phone gives you customization options to literally customize the entire phone to look and behave as uniquely as you wish it to. This includes installing custom ROMS, custom keyboards, and custom launchers – the works.
Install apps from the Play Store that are prohibited – If you have ever tried to download an application from the Play Store only to be told that you cannot because it is not available in your region or it just does not appear in the Play Store at all then a rooted device can solve this. You can sideload applications to bypass the Play Store restrictions.
What does rooting require?
To root an Android device you will need a PC and the Android device itself that you wish to root. Because every Android phone is different (make, model, manufacturer, OS version, firmware, kernel, etc..) there are a number of different ways you must root the same looking phone because of its configuration.
So, rooting a USA T-Mobile Samsung Galaxy S5 running Android OS 4.4.2 may not be the same as rooting a UK O2 Samsung Galaxy S5 running Android OS 4.4.2. Rooting requires a lot of research to make sure that you get the right rooting guide for the Android device that you wish to root.
Mac users who wish to root an Android device are out of luck. No rooting tools are available for Mac which means that Mac users must either run Windows on their Mac to perform rooting or they must get access to a PC to follow the rooting instructions.
Usually, when you want to root an Android device you need three pieces of information along with the device itself in your hand and access to a PC.
The model number
The manufacturer
The OS version
You can find that information on any Android device by going to Settings > About Device and the information will be listed.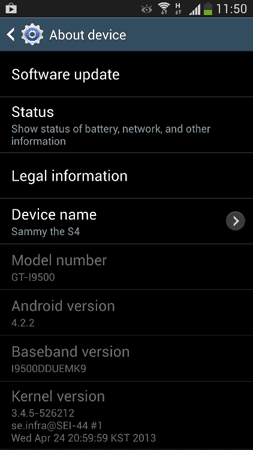 So based on the details above, if we wanted to root this Samsung Galaxy S4 we would type
'how to root Samsung Galaxy S4 GT-I9500 OS 4.2.2'
in to Google
FlexiSPY, in conjunction with Spy Phone Review, already provides tried and tested rooting guides for many popular Android devices and you can find links to them in the next section.
Do you have a rooting guide for my Android device?
You can find a complete list of all the rooting guides that we offer here.
If you wish to request a guide is written specifically for your Android device, for example, if your device is not listed please tell us in the comments and we will create one for you.
All rooting guides we offer are provided by Spy Phone Review and they are tested and correct at the time of publication.
How do I know an Android device has been rooted successfully?
Once you have rooted an Android device successfully there will always be a new icon visible called SuperSU. This is how you can tell if an Android phone has been rooted, by being able to see this icon in your main applications list.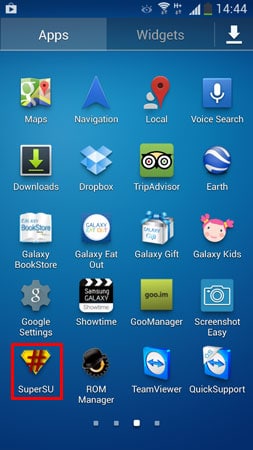 If I root the phone won't they find out because of the visible SuperSU icon?
Rooting will install a visible icon called SuperSU. While many people may be thinking that this icon will lead to discovery please understand that as part of the installation process on a rooted Android device FlexiSPY asks if you wish to hide the SuperSU icon or not.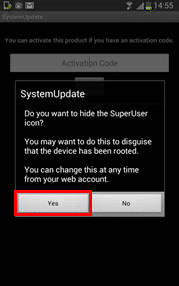 Simply tap
Yes
and the SuperSU icon will be hidden completely. This means that there will be no traces of the software visible on the phone if you choose to also
hide the FlexiSPY software icon
as well.
What are the risks involved from rooting?
Rooting will void the warranty of the Android device in 99% of cases. That is why it is very important to find the correct rooting guide that you need for your specific Android device. As ever though it is recommended to backup the Android device first before performing rooting to make sure that you have a copy of it should anything go wrong.
On a rooted phone you also cannot upgrade the Android OS version any more. If you try to upgrade the OS version on a rooted phone then it will fail. The only way to upgrade the OS version is to perform a full unroot (explained later on) and then, once done, upgrade the OS and root the phone again while running on the newly updated OS version.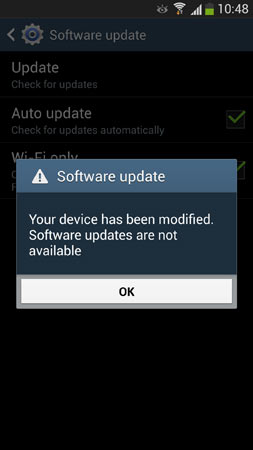 That is why we recommend, before you even try to root an Android device, that you
backup the device first
. That way, if anything does go wrong you will have a backup
to restore from to get your Android device up and running again.
But rooting is a fairly simply process. Samsung based Android devices are the easiest to root overall because Samsung use Odin which is a simple to understand application allowing you to interface with any Samsung Android device once it is in Download mode.
In contrast to this, HTC requires that you unlock the bootloader of the Android device first before you can root the device. This is quite technical and it does void the warranty once it has been done.
Once a phone has been rooted you also cannot upgrade the OS version any longer.
If you have rooted an Android device and you wish to get the latest and greatest version of the Android OS that was just released specifically for your device then unfortunately, when you go to the Software Update option on the phone itself it will say that this operation cannot be performed.
On many Android phones you can unroot the phone to return the phone to its original non-rooted state. This is done by going in to the SuperSU application on the Android device > Settings > Full Unroot. Performing a full unroot means that you should be able to still maintain your warranty although, if rooting your particular Android device trips a counter that Android manufacturer technicians can access (as we explained with Samsung Knox) then it may not be enough but it should always be tried first.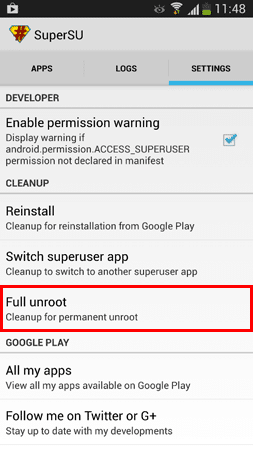 On a rooted Android device, if you perform a factory reset,
ALL DATA WILL BE DELETED
on the device but the root will still remain. You can only remove rooting by performing a
full unroot
which is explained above.
What FlexiSPY features won't I get if I do not wish to root the phone?
If you do not wish to root the Android device, that is fine, you can still install and run FlexiSPY on the device without issue – you just won't get the following features.
What is the difference between FlexiSPY running in FULL or LIMITED mode?
On a rooted Android device, FlexiSPY may run in FULL mode (root permission granted, all features working) or LIMITED mode (root permission may or may not be granted, limited functionality).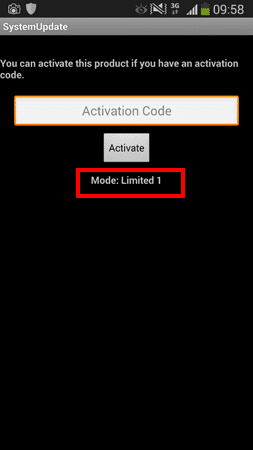 In LIMITED mode the following features will not work:
Spycall
Call intercept
For the reasons behind why FlexiSPY may run in LIMITED mode only on your Android device please read below.
Why does FlexiSPY only run in LIMITED mode in Android OS versions higher than 4.4.2?
The cause of LIMITED mode is dependent on the OS version of the TARGET device.
From Android OS version 4.3 onwards SELINUX was changed from PERMISSIVE to ENFORCED. What this meant was that even if the Android device is rooted, the changes to the OS software itself are prohibiting FlexiSPY from getting full access to the system software (the OS) on the phone for all features to work.
Unfortunately getting around SELINUX is not easy which is why even though FlexiSPY supports up to OS 4.4.2 this is only on devices whose manufacturer still sets SELINUX to PERMISSIVE and the only way you can get this information is to physically check the device itself.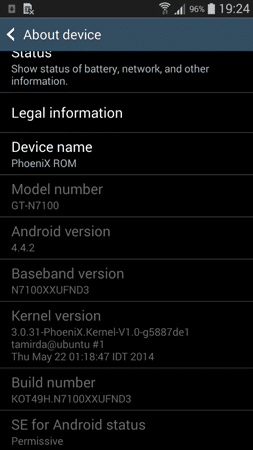 There are three ways you can try to get around SELINUX being set to ENFORCED.
In the above screenshot you can see the About Device page of a Samsung Android device running OS 4.4.2 with SELINUX set to PERMISSIVE.
How can this be?
They installed a custom ROM to bypass the restriction as you can see by the device name.
But there is more.
On Samsung phones, running Android OS 4.3 or higher, Samsung added a new security program called Samsung Knox which locks down part of the phone OS software so that it can be used in a corporate environment (essentially allowing you to switch your phone from your personal phone to your company phone and back again as you require).
If this feature is enabled on a Samsung Android device then you may not be able to root it.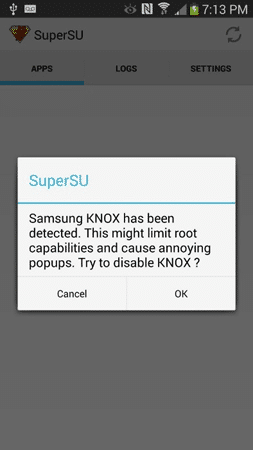 If you can root it then Knox keeps a record of it (called the 'Knox counter') and Samsung aftersales refer to this counter value if you ever take the phone in to be repaired. If the counter is not 0 then most likely your warranty will be void because Samsung will immediately know you tried to tamper with it by attempting to root the Android device.
They simply have to put the phone in to Download mode and look for the Knox Warranty Void value. If it is 0 then the warranty is valid. If it is 1 then Knox has been tripped and the warranty may no longer be valid.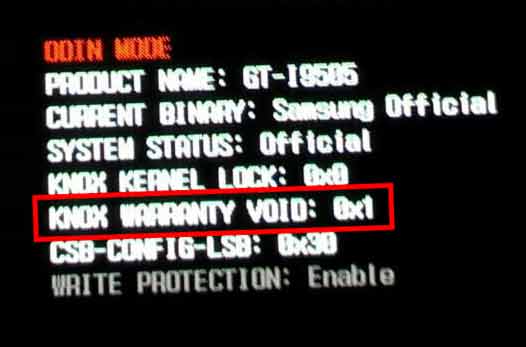 The method to root a device with Samsung Knox enabled is complex. You essentially have to 'cook your own ROM' which means you are basically re-engineering the firmware OS file to not include Knox and you then flash that to the phone (meaning that the phone will be exactly the same, just without Knox) and you can then root it as normal. This is a process not many Android device owners will wish to do as it is complex, it will void the warranty and you will need to backup the device first as otherwise all data will be lost.
This method is also not available for all Android phones because it only applies to Samsung Android devices and not all Samsung devices can be upgraded to a newer Android OS version (e.g. OS 4.3.x and above) which Knox is compatible with which is why they are easier to root.
Ultimately, all of the issues here such as SELINUX and Samsung Knox, is beyond FlexiSPY's control which is why we cannot guarantee all features will work if you are installing the software on to an Android device running that is not running an OS version from 2.3 to 4.4.2.
Samsung Knox is only available on Samsung Android devices. This is just one reason FlexiSPY may not run in FULL mode, for all other manufacturers (e.g. HTC, Motorola, Sony etc.) it would be the SELINUX setting that stops that from running in FULL mode on an OS version higher than 4.4.2.
Why can't my Android device be rooted?
Not every Android device can be rooted.
It really depends on the configuration of the hardware and software inside the Android device for an Android phone to be able to be rooted or not and some are easier to root than others. Also, the more popular Android devices, from established manufacturers, are usually quicker to be rooted than a manufacturer that nobody has ever heard of.
Rooting takes time and patience. Many new Android phones get harder and harder to root. With Google now ready to near enough launch OS 5.x (Android Lollipop) it means a whole new challenge to make sure that this OS can be rooted. Unlike iOS for iPhone where all devices are pretty much the same configuration it means that it may be some time before rooting Android L based phones is possible and, when it is, it will only apply to the most modern handsets to start with as older devices may not be able to or eligible for running Android OS 5.0.
So while rooting is something that can be looked upon as being complex it really depends on the device itself. If you are interested in FlexiSPY and you want the root extra features then we recommended the following devices for best compatibility.
Samsung Galaxy S3 – GT-I9300 – OS 4.2.x or below (SELINUX should be PERMISSIVE)
Samsung Galaxy S4 – GT-I9500 – OS 4.2.x recommended (SELINUX should be PERMISSIVE)
Google Nexus 4 – OS 4.4.2 (SELINUX should be PERMISSIVE)
Google Nexus 7 – OS 4.4.2 (SELINUX should be PERMISSIVE)
Samsung Galaxy S5 – SMG900H – OS 4.4.2 (SELINUX should be PERMISSIVE)
FlexiSPY cannot test each and every Android handset and its configuration so the above handsets are known for best compatibility overall. Please also remember that the above devices include a very specific model number so please make sure that the device you want to install the software on to has the same model number.
For example, if you want to install the software on to a Samsung Galaxy S4 and its model number is GT-I9505 then it may not work correctly with the software at this time and it highlights just how fragmented the Android OS system is compared to Apple and iOS which is more unified (but this comes at a price of less control and customization).
If you want to install the software on to an Android device running an older OS version such as OS 4.x – 4.2.x) then you have a higher chance of complete compatibility plus the device will be much easier to root as well.
If you are not wanting the root extra benefits then any Android phone running OS 2.3.x – 4.4.2 will run FlexiSPY without any problems. Please remember that on an unrooted Android device, whileFlexiSPY will display a visible icon, the ability to hide the application from the Application Manager list is something that can only be done if you have rooted the phone before installing the software.