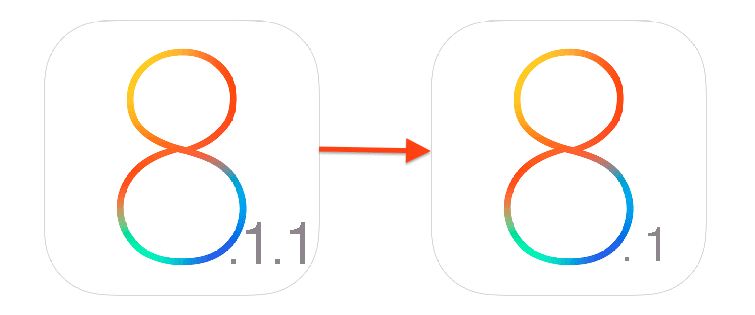 If the iPhone you want to monitor has been upgraded to iOS 8.1.1 then you'll need to downgrade back to 8.1 so that you can jailbreak.
Right now there is good news as Apple appears to be signing the iOS 8.1 firmware files (for now) which means that if you want to downgrade, you'll need to do it now.
Things to note:
You're only going to be able to downgrade if Apple is signing the iOS 8.1 firmware file.
It's very important that you make a backup of your device to iCloud or using iTunes incase something goes wrong.
Apple doesn't recommend that you downgrade your iOS device, so follow this guide at your own risk.
Download the respective iOS 8.1 firmware file for your device via the links below:
iOS firmware file for iPhone
iOS firmware file for iPad
iOS firmware file for iPod touch
Connect the iOS 8.1.1 device to your computer.
Open iTunes and select the device from the corner on the top right, to the left of the iTunes Store button.
Press and hold the Alt/Option key on the Mac or the Shift Key in Windows and click on the Check for Update option, instead of restoring.
The team at iphonehacks.com were able to successfully downgrade from iOS 8.1.1 to iOS 8.1 using this step, but if you're wanting to go by the book then it's reccomended that you use the Restore method, -it will be more time consuming-
Disclaimer: If you use the Restore method, then it will wipe the data from your device so make sure you have that backup we discussed before.
Downgrade iOS 8.1.1 using iTunes
Select the ipsw file you've downloaded from before
iTunes will give you a notice that it's going to update your iOS device to iOS 8.1 and then the update will be verified with apple.

Update to iOS 8.1 using iTunes
Click on Update.
If everything works properly, iTunes will then downgrade your iOS device to iOS 8.1.
After a successful downgrade, the iOS device will restart. A notification saying "Slide to upgrade" should then appear. Enter the passcode, and then wait for the downgrade process to complete. You may be prompted to activate your device.
Done! You should now be successfully downgraded to iOS 8.1.
Let us know if you encountered any errors while following this guide, or if you were succesful!