Who are Mspy
Like StealthGenie, Mspy provide smartphone and tablet monitoring software. As with FlexiSPY and the entire mobile monitoring industry the StealthGenie case has made many businesses stop and re-evaluate their entire business model and practices due to the recent charges and indictment of Invocode, the creators of StealthGenie, and its CEO, Hamad Akbar.
It is interesting to see how Mspy is dealing with this and what steps they are taking to make sure that they stay on the right side of US law, specifically when it comes to Title 18 USC 2512.
Website Redesign
Mspy seem to have made a number of small changes to their website. These include the absence of the word "spy" in the copy. They have also updated their legal terms, which are all wise actions for a company who requires to be under USA jurisdiction.
They have also changed their claim from being 100% invisible to simply being discreet or stealth. Ironically, Mspy has never been invisible or particularly stealthy, but whether this change in language is enough to avoid the charge of being "surreptitious", as used in USC 2512 remains to be seen.
They still advertise themselves as being discreet and even though their marketing angle is to monitor children and employees.
However they've removed all references to monitoring spouses.
Features Removed
Of more concern to customers is the fact that Mspy have removed the call recording and ambient recording features entirely from their product feature list. We can only speculate why this is, but in any case, the new Mspy product will not offer the ability to record calls.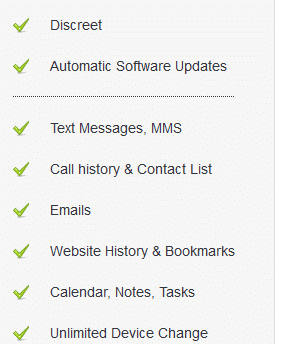 MSpy Server Location
Mspy website and customer portal that stores the captured customer data continues to be hosted by Amazon in the USA. This information can freely be found out by simply looking up the URL's IP address.
What does this mean for Mspy
Like all companies with a USA footprint, they are under USA jurisdiction, as is Mspy customer data, and like all companies, they strive to remain lawful. However, until the Stealthgenie case is resolved – and it's by no means a slam-dunk guilty decision – none of us can know what this means for USA companies involved in computer and smartphone monitoring.