Android phones give you the most functionality and customisation options when compared to all other rivals on the market. But what happens when it goes wrong? What if you install the wrong custom ROM or you have just downgraded the OS and want to restore from backup – what do you do?
Firstly you must always make sure you have backed up your Android phone first before you attempt to change anything significantly on your Android phone, we show you how to do that here.
Disclaimer: FlexiSPY is not responsible for any loss of data or damages incurred from following the directions given. Please make sure you have correctly performed all the device requirements for backing up the phone and have correctly backed up the phone before proceeding as well as correctly restoring the appropriate backup for the correct Android phone being used – restoring the phone is done entirely at your own risk.
What is needed to restore the Android phone?
Restoring the Android phone requires that you have done the following:
Rooted the Android phone
Backed up the Android phone to the device itself
For the sake of writing this argument we are going to already assume you have rooted the Android phone and made a backup of the phone to the device itself.
How to restore an Android backup using custom recovery
Restoring from backup is really simple.
All you need to do is put the phone in to recovery mode.
To do this you do the following:
Turn the phone off completely.
Hold down the Volume Up, Home and Power buttons together.
Wait until the phone boots up.
When it boots in to recovery mode it will look like this.
Using the Volume up and Volume down buttons to choose and the Power button to select choose the backup and restore option.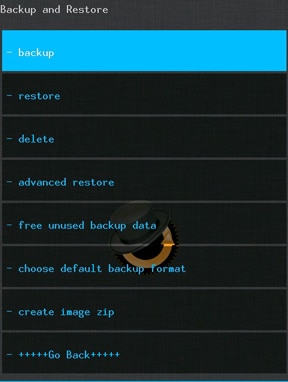 On the screen that appears choose the restore option.
Providing you have backed up the phone to the device already your backups should be listed.
Select the backup file that you want to restore.
On the screen that appears scroll down to Yes – Restore and select it to start the restoration process.
The restoration process CANNOT be undone so please make sure that you are restoring both the correct backup file and that you really do need to restore the phone from backup.
Once the backup is complete exit all menus until you appear again on the main recovery menu and reboot the phone.
Once the phone has rebooted everything should be from the backup you made meaning that your phone should now be fully functioning again if you had to restore from backup because of an issue.