Right before New Years we released the news that iPhone Call Recording is here, but today we have another exciting update to share!
FlexiSPY Now Supports VoIP Call Recording for iPhone
VoIP Call recording is a feature that our customers have been asking about for a while, so we figured you guys will be stoked to hear that the following IM's that support VoIP can now have their calls recorded and uploaded to your dashboard for your listening pleasure.



How To Get It
VoIP Call Recording is available to users of FlexiSPY EXTREME only. You must also be running the latest version of FlexiSPY for iOS, which as of the date of this post is (Version 4.1.2)
To make sure that you're up to the latest version, all you need to do is go to your dashboard and check to see if there's a flashing update icon on the top-right hand side of your screen.

 If the icon is there you click it and accept the agreement to update FlexiSPY on the phone and it will be remotely updated.
How To Use VoIP Call Recording
After you've made sure that FlexiSPY is up to date you can start using our new VoIP Call Recording feature off the bat.
There's no extra steps you need to take to get it working, but here's how you can find the recorded calls:
From your control panel head to Calls -> VoIP calls, then choose the IM that you'd like via the Dropdown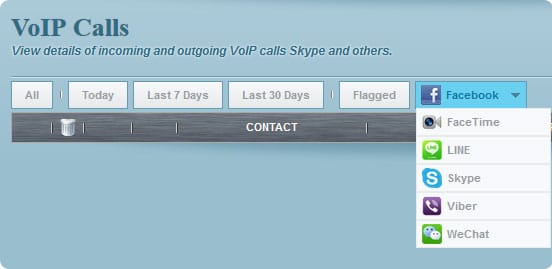 If you just updated the FlexiSPY version on the phone there won't be any call recordings showing immediately, but they'll start rolling in soon after the TARGET phone makes a VoIP Call.
What other features would you like to see with FlexiSPY for iOS? Let us know in the comments section below!