Ever wondered about "Monitoring my child's computer remotely without them knowing", or "How can I protect my children in a digital environment where regular computer use starts at such a young age?"
As a parent, you can't help but worry
Is my child being exposed to things they shouldn't be too soon?
Are they talking to strangers or cyber predators online?
Is he or she posting, sending, or sharing private information?
Are they making decisions that may come back to haunt them later in life?
Has their behavior changed due to cyberbullying?
These are questions all parents need to consider.
By the end of this article, you will have learned how to monitor your child's computer discreetly, whether monitoring is really necessary, and what the best tool to monitor their computer is. Read on!
How can I Monitor my Child's Computer Remotely?
Next, what actions can a parent take to be as informed as possible?
You can start by asking yourself:
How can I see what my kid is doing online?
Do I need Parental Control for computer?
What is the best internet monitoring software for parents?
As you are well aware, the parenting landscape has changed significantly in the past decade. This is in no small part due to a new wave of threats brought about by technology. Specifically, the internet and communication platforms where users are not verified or can remain anonymous.
Now more than ever, it's important to monitor your child's online activities with a Parental Control tool you can trust.
But first, is monitoring your child's computer remotely necessary?
Is Monitoring my Child's Computer Remotely Necessary or Overkill?
How to see what my kid is doing online? In this day and age, the measures a parent must take to secure their child's well-being should be multi-faceted enough to detect and deal with most cyber-threats. A significant amount of which now stems from computer and internet use.
These include cyber-bullying, online predators, phishing, exposure to inappropriate content, online grooming, and other risks associated with kids and computer security. All of which are dangerous and come with serious repercussions.
Parents need a way to be there, without 'actually' being there – so to speak.
This is where Computer Monitoring comes in.
Check out FlexiSPY for Computers Now!
5 Signs You May Need Internet Monitoring Software for Parents
Another key point, how do you know it's time to consider computer monitoring?
Does your child:
Spend much of their day on their computers?
Act secretively about their online conduct?
Close or change tabs whenever a parent is around?
Use sexual or explicit language unexpectedly?
Lastly, have they become emotionally volatile, unreasonable, or rebellious?
Often, a child may engage in dangerous or unwanted behavior that opens them up to risks without realizing it. A person with malicious intent has no problem posing as a child. Complete with a fake ID, photo, and a believable back story. You'd be surprised by how easy it is.
Fortunately, these predators have been caught. However, according to the FBI – there are an estimated 500,000 online predators active every day in the United States.
Additionally, the Bureau estimates that 460,000 children are reported missing every year in the US alone.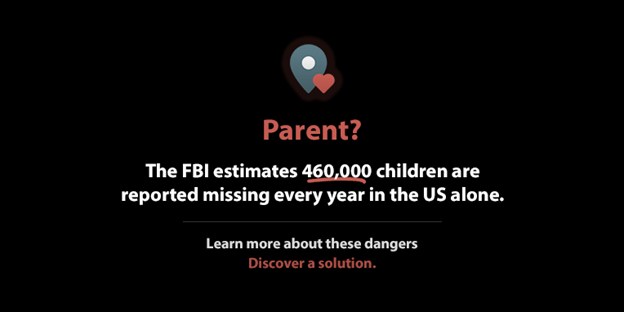 You can observe whether your child may be putting themselves at risk by keeping an eye out for the signs listed above.
In the next section, the infographic shows the latest Grooming & Online Predator Stats from the FBI.
Monitoring my Child's Computer Remotely – What The Stats Say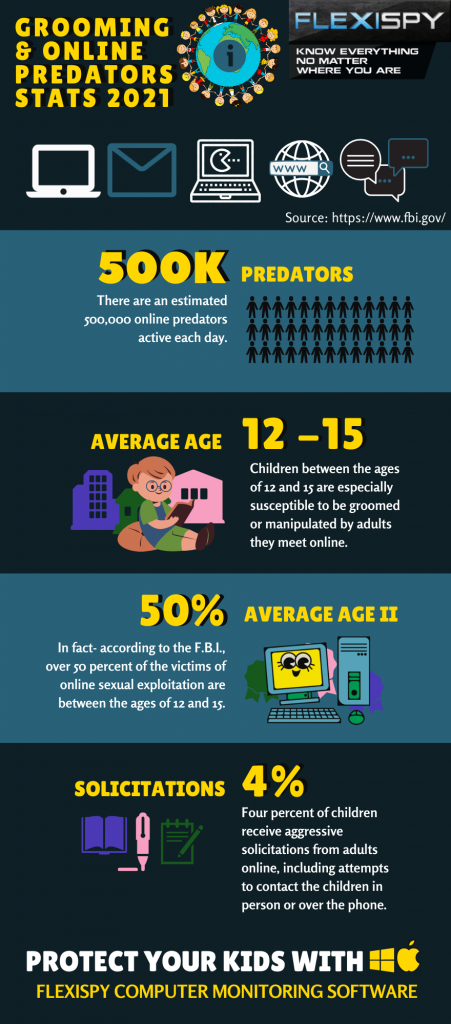 Given the threats, we recommend getting a trusted Parental Control App to Protect your Children.
You can stay informed of your child's online behavior for their own good – for a period until you can be confident of their ability to recognize danger. And of course, until they have developed a certain maturity in their decision-making process.
This way, you can then give them the freedom that comes with growing up and taking responsibility for their own safety.
Until then, computer monitoring software can help give you the peace of mind every parent craves.
With Parental Control for Computers you can:
See what your child is doing online
Keep your child safe by keeping an eye on their digital environment and activity.
Unlike other computer monitoring software – FlexiSPY does not restrict or block access to programs or websites. Rather, parents monitor remotely and step in whenever necessary.
Openly Monitor or be Discreet
Once installed, FlexiSPY tracks all computers remotely.
Choose if you want the program to be hidden or visible, and approach Parental Control as you see fit.
Build Positive Digital Habits
Help your child develop a healthy relationship with technology in a controlled environment where the parent is in charge.
For example, you can Track Browser activity, YouTube Searches, Skype, MSN, E-mails, key logs, and capture all data on any PC or Mac Computer.
Best Way to Monitor your Child's Computer Remotely – FlexiSPY for Computers
FlexiSPY is the world's most powerful computer monitoring software. It is fully compatible with both PC and Mac OS and 100% parent-friendly.
FlexiSPY gives parents the option to monitor computer activity openly or discreetly. This flexibility is not available in other computer monitoring software in the same price range.
Furthermore, you can use FlexiSPY to view all keystrokes, searches, browser activity, emails, IM chats, files, and more.
FlexiSPY for Computers is the best way to monitor your child's computer remotely.
Let's dive into the features on offer, or Try FlexiSPY for Computers Now.
FEATURES
To emphasize, FlexiSPY remotely monitors the target computer and records everything. All captured data is then uploaded to a secure online portal, where you can view usage and activity reports.
The main dashboard seen here provides a summary of the computer's activities. Of course, with just one click you can hone in on key info and pick out what's important.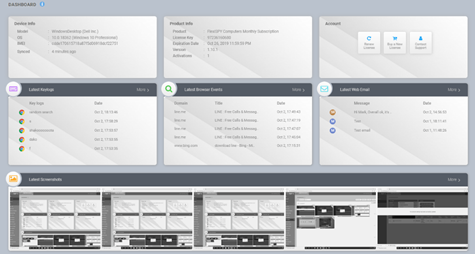 FlexiSPY features can be divided into two main components:
The first is a set of Data that tracks all computer activity. For example, these include desktop chats, webchats, social media, browser activity, and more.
The second set of features are Alerts. Parents can customize alerts based on Keywords, File Transfers, and File Activity.
Altogether, these features let you know what's happening on your child's computer 24/7.
You can check out all FlexiSPY features in the table below: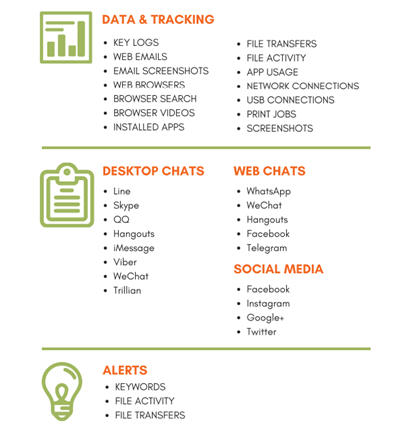 Get Started with FlexiSPY: The Best Parental Control & Internet Monitoring Software
Monitoring your child's computer remotely is easier than you think if you know where to start.
What's more, FlexiSPY installation is a relatively simple process.
If you are pressed for time or don't want to deal with technicalities, we've got you sorted. FlexiSPY offers a worry-free installation service that can be purchased at check-out or as a standalone service.
To begin, follow these simple steps.
Purchase a FlexiSPY for Computers subscription (Limited time offer: Get it for FREE)
On any browser, go to https://portal.flexispy.com
Enter your temporary username and password and log-in (found in your welcome email)
Choose between manual install or installation service
Need help? Click on the Live Chat icon located in the bottom right of your screen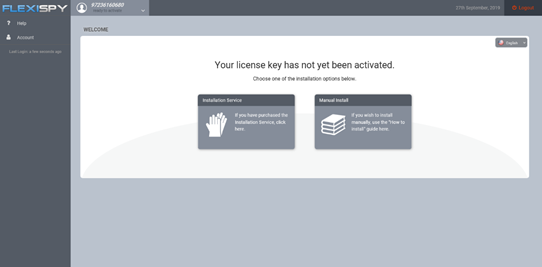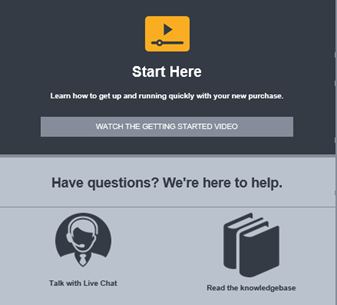 After installation, we suggest updating your username and password immediately. Then set up 2FA to help safeguard your data.
Note: You will have to install a browser extension to access all features.
For more information, check out these resources.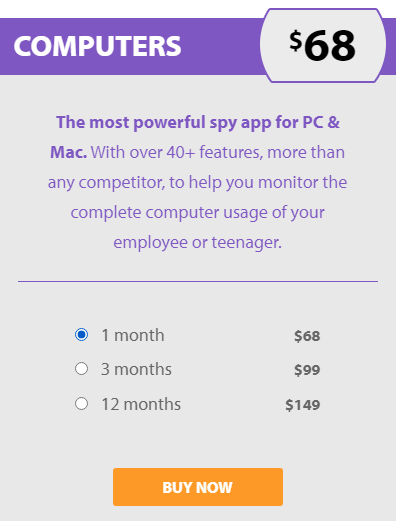 PACKAGES & PRICING
Did you know that FlexiSPY has more monitoring features than anyone on the market?
Parents use FlexiSPY's complete suite of parental controls to supervise their child's internet activity. Doing so means they never have to worry again about what applications they install, what websites they visit, or who they chat with on IM or email.
Normally available for $68/month, you can now get FlexiSPY for Computers for free! Read on to find out how.
Get FlexiSPY for Computers for FREE!?
For a Limited Time Only — FlexiSPY for Computers is free with any purchase of FlexiSPY EXTREME for Android or iPhone.
The Covid-19 Pandemic has meant that people young and old are spending more time at home than ever before. Whether it's for working or learning from home, PC & Mac usage has never been higher.
With this purpose in mind, FlexiSPY has risen to this demand by giving parents our best monitoring software completely free of charge.
Here's how to get FlexiSPY Computers Free!
All you have to do is buy FlexiSPY EXTREME for Android or iPhone. Then claim your free copy of FlexiSPY for Computers during checkout.
Find out more about FlexiSPY for Computers in detail here
Learn more about FlexiSPY for Android here
Learn more about FlexiSPY for iPhone here
Note: This offer is not available for LITE or PREMIUM.